O

ther Logos Institute Publication

s

Our Father Meditation  with   Stations of the Cross ( link)   
The Redeemer's Call to Consecrated Souls

Saints, Popes, Mystics, reflect on the  
words of Christ:  
"Without Me you can do nothing."  

​

Listen to what St. Therese has to say about work: 
 "I have never heard Him speak, but I know that He is within me.  Just when I need it, a new light shines on my problems.  This happens not so much during my hours of prayer as when I'm busy with my daily work."  

"This book should be used in parishes for spiritual formation."
—Rev. Raphael Simon, OCSO, Trappist monk, retreat master, psychiatrist

Purchase or look inside The Mystery of Work at Amazon here
and Other Poems

by

Rev. Dominic Rover, O.P.

Y
"MY LITTLE CHILDREN, you must understand that I am a Father who gives Himself and in giving Himself, gives everything—just as I communicate My Being to My Only Begotten Son eternally, so that even as He is true God, He has nothing in Himself but everything from Me—that is why He is the Littlest of the little. And so I would be a Father to you, communicating Myself totally to you in My Son. O My little children, see, then, how necessary it is for you to be so small that you are nothing in yourselves, nothing outside of Me—like My Son—so that you may receive everything from me." 
​​
Y
Purchase or Read Inside Our Father Meditation at Amazon 
here
​
This is a first-time translation of a long-lost French spiritual classic:  Cum
.  
Clamore Valido —a book of extraordinary locutions by Our Lord to an anonymous French nun in the years leading up to WWII.
"I must say I felt overwhelmed while reading this book. I highly recommend it to consecrated souls and to the lay faithful. TOLLE ET LEGE! Yes, take up the book and read it!" 

         +
Francis Micallef OCD, Emeritus Bishop of Kuwait
"I am so grateful for having this instructive classic back in print and into my hands.  I cannot recommend the book strongly enough.  It is spiritual reading at its best and a gift to the Church.  If you are a consecrated soul, a very great treasure has fallen into your hands." 

—Rev. John Olin Brown, hermit priest of the  
archdiocese of Trani-Barletta-Biseglie-Nazareth
​

Purchase or Read Inside The Redeemer's Call to Consecrated Souls  at Amazon 
here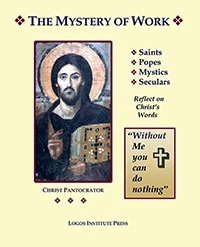 The short meditations by the many voices in this book all teach, directly or indirectly, how the ordinary things we do in the course of our day can connect us to God.  How work in its many forms can and should be a form of prayer. In the Introduction , the book offers a Catholic doctrine of work, of how to work in a way that not only pleases Our Lord but draws Him into the work. (Link here for more information abut the book and how it might be used, e.g.. for individual  or parish study.)
This little book contains poems that have to be considered exceptional for their gentle glance into human frailty, for their tender scent of faith, no less than for their playful wit. And most of all perhaps, as poetry goes, for their lyricism. The poet, Thomas Dominic Rover, O.P. was a Dominican Priest who taught at Providence College for many years. He died in 1997, largely unsung for his artistry except in the circles of Providence College. Hopefully, this little volume may bring wider recognition to the poetic gifts God gave this faithful priest.
Purchase or Read Inside In Defense of Mermaids  at Amazon 
here
This book condenses and draws into focus the five volumes of  Locutions to the World that present daily messages given principally by Mary (from December 10, 2010 to September 24, 2015) to a special soul under the direction of a Roman Catholic priest.  In this volume, this narrative is disclosed in Mary's own words, chapter by chapter. The opening chapter, "The Present Situation," aids the reader to understand how to interpret our times by disclosing the way heaven views our modern age. The chapter on  "The Father's Plan" for the world, divulges why Mary's appearances at Fatima are key to that plan. Still other chapters present Mary's answers to such questions as "Why the Locutions?" and "What Does Mary Want Us To Do?" Final chapters contain her predictions about "Events and Prophecies" that point toward a future world which she says will be a "world filled with the greatest gifts ever given to mankind by God." The cumulative impact of these locutions, organized in this focused fashion, is quite powerful, not just by interpreting our times, but even more by offering guidance on how to prepare for and to negotiate the perils of the present age.
.
Purchase or Read Inside In Stream of Light  at Amazon 
here